This event has already occurred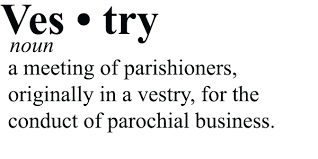 Save to your Calendar
Today is our Annual General Vestry Meeting.
What is a Vestry?
In most Anglican Churches people wear funny clothes during the services. Like all clothes, they need be stored. We store these clothes in a room called the Vestry. In ages past, the Vestry was also the room where the business of the parish was decided. Because of this, somewhere along the way the word Vestry came also to mean the decision-making body of the Parish.
Today the Vestry (the decision-making body of the Parish of St. Dunstan) will meet next to the Vestry (the place where the funny clothes are stored) to make decisions for the coming year.
We will review our 5-year vision plan,
adopt our operating budget,
elect members to Parish Council and other decision-making committees of the wider Anglican Church,
and share Holy Communion together as God's Great Family.
Thank you for your love and support for the ministry in this place!
Notice: Please bring last year's palm crosses to the church so we can burn them on Shrove Tuesday (March 5th) to make ashes for Ash Wednesday (March 6th).