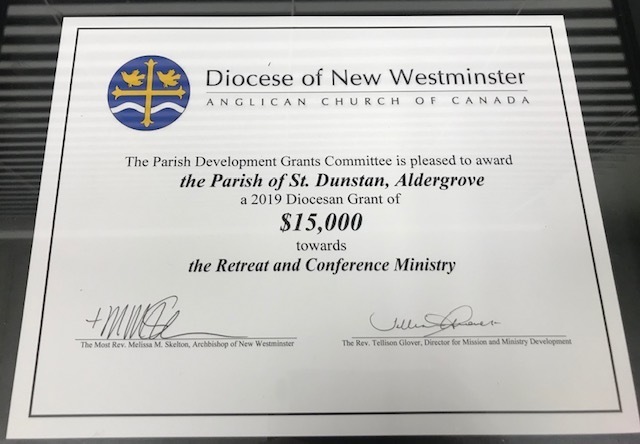 The Parish of St. Dunstan is celebrating the receiving of a Parish Development Grant of $15,000 from the Diocese of New Westminster for the newly developing Spiritual Renewal Centre. What an honor to have Rev. Tellison Glover come to award this gift to our community on Dec. 9, 2018. With grateful hearts we now look to the coming year with new energy and exciting opportunities for growth and renewal in the Fraser Valley and beyond.
The Spiritual Renewal Centre launched the first program for September - December 2018 with much enthusiasm and amazing participation. The Centre is part of St. Dunstan's Spiritual Formation for Adults and hosts parish retreats, spiritual practice evenings, weekly Lectio Divina and Labyrinth walks as well as Centering Prayer and Spiritual Formation Study nights… and many more contemplative and transformational experiences.
The Centre for Spiritual Renewal is a ministry for Christian Transformation.
All who desire to follow Christ and grow more in the image of God are welcome.
All who are on a spiritual journey are welcome.
All who are curious are welcome.
All who are tired and need rest are welcome.
All are welcome.
One of the possibilities that can now be realized is a position for Lorie Martin to continue to develop and facilitate valuable and inspiring gatherings as Associate Director of the Centre. Rev David Taylor, Rector and Executive Director of Spiritual Renewal Centre, Rev Helen Tervo, Honorary Priest, and others in the St. Dunstan's community, along with other retreat/program guests are involved in facilitating the events. To contact Lorie Martin, Associate Director 604.217.6966 [email protected] Lorie offers spiritual direction, inner healing soul work, and contemplative retreat experiences with a passion for all to experience the steadfast love of God in all of life.
The January 2019 (January – April) Program Guide is now available! Topics include: Epiphany Morning Retreat, The Anglican Rosary, Enneagram Workshop, Labyrinth Retreat, Sanctuary Yoga, Kairos Blanket Ceremony many invitations during Lent, … Check it out at http://www.st.dunstan.ca
"As we turn the calendar to a new year, let us turn our hearts to embrace the longing we have to experience God in meaningful ways. What desires might be bubbling up from your beautiful soul? I wonder if you notice distractions that may want to hinder intimacy with God, yourself and others? You are welcome to these 2019 gatherings and the intentional community life at the Centre for Spiritual Renewal at St. Dunstan's. Our heart is for growth, restoration, and new emerging freedoms to each of us; may a fragrant and fruitful thriving in the garden of your heart astonish you! Please let us know if you have any questions, ideas, or if you'd like to be involved in some way!"
SAVE THE DATES for these Upcoming Gatherings for Spiritual Renewal:
January 2019
May we grow in the grace of God
Epiphany Half Day Retreat Sat. Jan. 5 9am - Noon
Enneagram Lecture St. Paul's, Bellingham Fri. Jan 11 6:45 - 9:30pm
Inter-Faith Labyrinth Walk Sun. Jan 13 2 - 3pm
The Anglican Rosary Sun. Jan 13 Evening
Spiritual Companions (Group Spiritual Direction) Sun. Jan. 20 11:30am - 1pm
Enneagram Retreat/Workshop Sat. Jan 26 9am - 4pm
Sung Evening Prayers Sun. Jan 27 7:30 - 8:30pm
Looking Ahead: These and more...

Kairos Blanket Exercise Sun. Feb. 10 1 - 4:30pm
Labyrinth Retreat Day Sat. Feb 22 9am - 4pm
Lenten 40 Day Welcoming Prayer Fri. Mar 1 12:30 - 1:30pm or Sun. Mar 3 11:30 - 12:30pm Sanctuary Yoga for Men & Women Fri Mar 22 7 - 8:30pm
Gather:her Yoga Retreat for Women Sat. Mar 23 9am - 5pm
Celtic Spirituality Retreat July 21 - 27 Sorrento Centre
The Grand Embrace III with Wm Paul Young, Brad Jersak Cathy AJ Hardy and Lorie Martin Oct 24 – 26